- THE CALDEW SQUIRREL INITIATIVE -
The Brief: To create a logo and two posters for "The Caldew Squirrel Initiative" which would be used to start a fundraising campain.
​- This project was designed to be a side project that ran alongside "The Dream Weaver" main project. As such it is a smaller and less in depth project -
Logo Resign

This is my redesign process for "The Caldew Squirrel Initiative" logo you can see me messing around with some ideas. I am quite pleased with
​how my logo turned out, I am not a logo maker by any means however it fits and looks clean which is the basic requirements for a logo.

Final Logo
---
Poster ideas shown to "The Caldew Squirrel Initiative" with development.

After showing these four thumbnails to Steve from "The Caldew Squirrel Initiative" we agreed that the top right idea fit with CSI the best. With the concept of trees and connections being at the forefront of the poster. This meeting also gave me a good idea of what text would need to be included within the poster so I knew what amount of space to leave free. I then went on to sketch some further small thumbnails to work out the subject and composition of my illustrations.
Squirrel Cream Tea Poster (inspiration and reference)
Fundraising Poster Inspiration

For the fundraising poster I decided to look at Art Nouveau artwork for inspiration. I knew that I wanted the poster to have an earthy yet elegant feel to it. Therefore I felt the inclusion of a border was logical, I especially liked the idea of adding autumn leaves to the poster as red squirrels are very connected to the environment and wider health of the trees.

Poster Development

The process for developing these posters was first by sketching the posters out in pencil then using brown ink to create the line art, after that I added the watercolour paint.
Colour Tests

I created coloured thumbnail tests to allow me to determine which colours worked best together. This showed me that more natural colours worked best for a squirrel charity.
Posters

Here you can see my two finished posters for "The Caldew Squirrel Initiative" one is a fundraising positive for potential sponsors and people who wish to donate.
​The other was an advertisement for a plant sale and cream tea event which overall raised £1500 for red squirrels in this area.
Caldew Squirrel Initiative Meeting

Here is a photo of the posters how they are naturally seen, at events used to raise money for the CSI.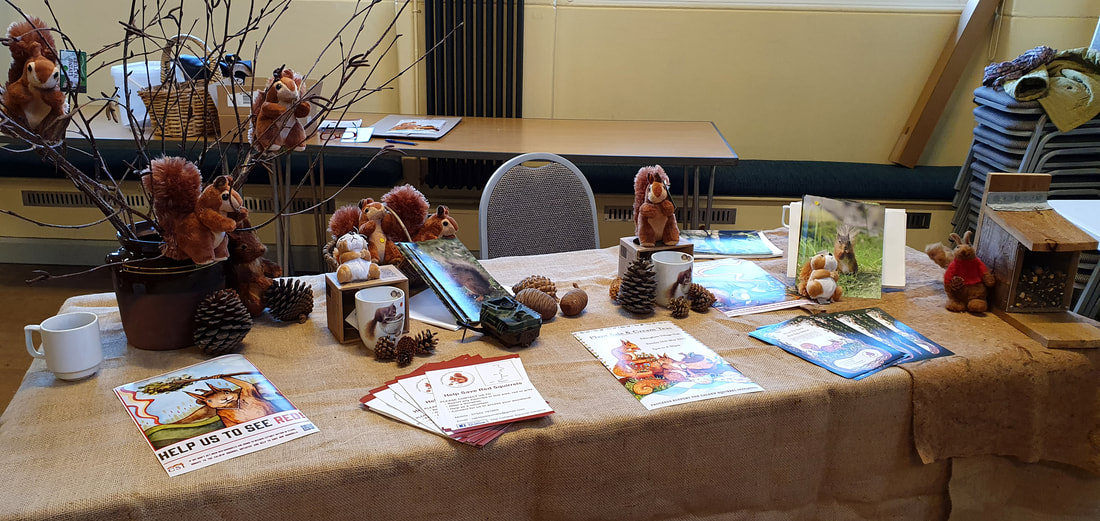 Poster Mockup
---
---